Swimming pool leak detection and repair is one of the many services that we offer here at Gold Coast Swimming Pool services in Long Island. Today we want to talk a little bit about how we can help when you do experience a leak with your pool!
Swimming Pool Leak Detection – How We Fix Your Leak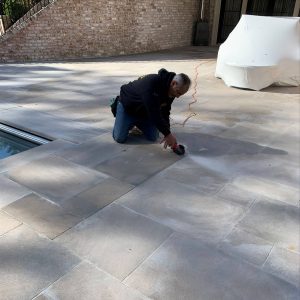 1. Determining Whether You Have a Leak
The first step in fixing your pool leak is to determine whether you actually have a leak or whether you are dealing with some other type of problem.
2. Identifying Where Your Leak Is
The next step is to identify where your leak is. When your pool is leaking, the leak could be in a number of places – underground plumbing, in the pool tile, in the pool liner, or in the skimmer. One way that we can check where your leak is, is to introduce air into the pipes of your pool and then use a piece of machinery that works similarly to a stethoscope to listen for the air escaping through the plumbing.
Once we locate the leak, we mark the area where the leak is so that we can come back with the right equipment to take care of the leak!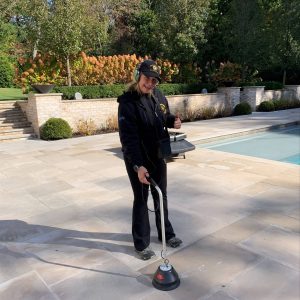 3. Get to the Leak
The next step is to get to the leak. The process for getting to your leak varies depending on where that leak is. You can see from the picture below that we can get to leaks anywhere, even when they are underneath your pool patio!
4. Cut Out the Leak and Replace the Pipe
Once we get down to the leak, we cut out the section of pipe that is leaking and cutting a new section of pipe that fits the area that has been removed. We then add a PVC primer to the pipe and glue that section of pipe into place.
If the leak is in the PVC pipe and that piece of pipe is at an angle, this can make fixing the problem trickier – although it is possible.
Sometimes the leak will be in a fitting and that is a much easier fix than having to replace a section of the pipe.
5. Check the Leak Repair
The next thing to do is to check the leak repair to ensure that the repair holds. Re-apply water pressure and ensure that the replaced section of pipe holds and does not begin leaking.
6. Repair the Aesthetic Elements
Once the pipes are tested and are functioning without leaks, it is time to repair any of the aesthetic elements that had to be compromised to get to the leak in your pool pipes. This is where it is important that you have an experienced team working on your pool maintenance because you want your pool to look perfect once that leak is fixed. Having an inexperienced team work on your pool can lead to mismatched tiling or decking that stands out and looks odd. This type of repair only means that you are going to have to pay more money and have another repair team come in and fix the first repair!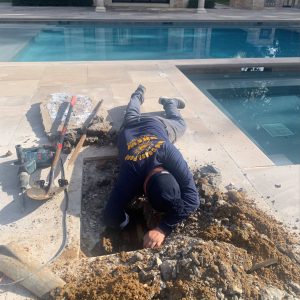 At Gold Coast Swimming Pools, our team of experts are here to help you with your swimming pool needs whether you have a leak that needs repairing or a pool liner that needs replacing, we have got you covered. That isn't all, though, we can even take care of your basic maintenance needs and have someone come to clean your pool on a regular schedule so that you can avoid debris buildup and algae growing in the water.
Do You Have a Swimming Pool Leak?
If you have a swimming pool leak that needs repair and you are ready to call in the professionals to take care of it for you, our team here at Gold Coast Swimming Pools can help! Just give us a call today at (516) 759-3000 to schedule an appointment at a time that is convenient for you! Once you set your appointment, we can get your problem taken care of and have your pool in swimming season shape in no time at all! Plus, when you hire our team, you can be sure that you will get long-lasting repairs every time.