Pool pavers are a great way to add a touch of style and sophistication to your swimming pool. Not only do they look beautiful, but they are also a practical way to create a slip-resistant surface around the pool. When choosing pool pavers, there are three key factors that you should consider: material, texture, and color.
Gold Coast Swimming Pools of Long Island is here to help you find the perfect pool pavers that meet all your requirements. We also offer pool paver installation services to ensure your swimming pool looks its best.
Key Factors to Consider When Choosing Pool Pavers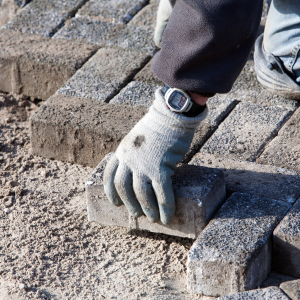 Pool Pavers: Material
When selecting pavers, one of the most important decisions you will make is the material. The material of your pavers can greatly influence the durability, cost, and aesthetics of your pool area. Some of the most popular materials used for swimming pool pavers include brick, concrete, stone, and even synthetic materials.
Brick pavers are a classic and timeless choice for pool areas. They come in many shapes, sizes, and colors to suit any style. Additionally, brick is quite durable and easy to maintain. On the downside, brick is not as slip-resistant as other materials and can be more expensive than some other options.
Concrete pavers are also a popular choice for pool areas due to their low cost and durability. These pavers are available in a variety of styles and colors and can be used to create unique patterns or designs in the deck area. Unfortunately, concrete pavers can crack over time with exposure to moisture or temperature changes.
Stone pavers are a great option if you are looking for a more natural feel in your pool area. Natural stone comes in various types such as flagstone, slate, and limestone. Stone is a more expensive option, but it is extremely durable and slip-resistant.
Synthetic materials such as rubber or plastic are becoming increasingly popular for pool areas due to their versatility and affordability. These materials are available in a variety of textures and colors and can be used to create unique designs or patterns. Rubber or plastic pavers are also slip-resistant and easy to maintain.
When choosing pavers, it's important to consider the material, texture, and color that best suits your needs and budget. At Gold Coast Swimming Pools of Long Island, we're here to help you choose the perfect pool pavers for your project and provide you with professional installation services.
Pool Pavers: Texture
When considering pavers for your project, texture should be a major consideration. Textured pavers are those with a non-smooth surface and can provide more traction for wet feet. This is important for preventing slips, trips, and falls near the pool. Non-textured pavers have a smooth surface, which may be more aesthetically pleasing but can be dangerous when wet.
Textured pool pavers provide an attractive look as well, with subtle ridges and lines that create an interesting pattern on the patio or around the pool deck. The additional traction offered by these pavers is invaluable for both safety and comfort. It makes walking in and around the pool much easier and less likely to cause slips, trips, or falls.
When selecting pool pavers, it's important to consider both texture and aesthetics. Textured pavers provide increased traction, improved safety, and easy cleaning, while non-textured pavers offer a smooth and sleek aesthetic look.
For help choosing the right pool pavers for your needs, contact Gold Coast Swimming Pools of Long Island for assistance. We offer experienced advice and professional installation services for all types of pool pavers.
Color
When it comes to pavers, there are a variety of colors available that can help you create the desired look for your pool area. Light colors are great for reflecting sunlight and creating an airy, vibrant atmosphere while dark colors add depth and elegance to any pool design. You can choose from a wide range of earth tones, blues, reds, yellows, and greens.
When selecting a color for your pavers, it is important to keep in mind the overall design of your pool. If you have a more traditional-looking pool, you might want to consider using neutral colors such as grey or beige. On the other hand, if you are looking for something more contemporary, you could opt for bolder colors such as blues, reds, and greens. Additionally, if you want to create a unique look for your pool area, you could combine different colors together in a mosaic pattern.
No matter which color you choose for your pavers, be sure to take into consideration the surrounding landscape and décor. This will help ensure that the pool pavers complement the entire space.
Conclusion
Choosing the right pavers can be a difficult and time-consuming task. You have to take into account a variety of factors, such as material, texture, and color, to ensure you select the best option for your pool. If you're having trouble making a decision, don't hesitate to reach out for assistance.
Gold Coast Swimming Pools of Long Island provides installation services to make sure your project is a success. With the help of Gold Coast Swimming Pools, you can rest assured knowing that your new pavers will last for years to come.